Special support for the Speech Contest of the Schools for the Blind
91st National Speech Contest for Students of Schools for the Blind and Visually Impaired
91st National Speech Contest for Students of Schools for the Blind and Visually Impaired
The National Speech Contest for Students of Schools for the Blind and Visually Impaired, an annual competition for which Sumitomo Group Public Affairs Committee has been a special sponsor since 2003, was held on October 6, 2023, at Akita Prefectural School for Visually Impaired.
The speech contest, which has a long, distinguished history going all the way back to its inception in 1928. This year's contest was the 91st, which is a remarkable track record for such an event. At the national contest, held before an audience of about 130 people, in their excellent speeches, the nine young finalists whose ages range from 13 to 23, selected from seven regions covering Japan, discussed their challenges and aspirations, while also expressing their appreciation for those who have assisted and inspired them along the way. In addition, they touched on what motivates them to fulfill their potential as valued members of society.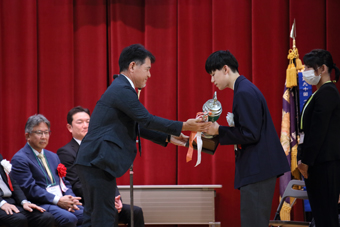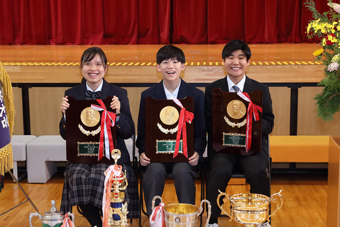 Mr. Hibiki Sakai won the first prize in this year's contest with a speech titled "Walls of Unconsciousness." He is a second-year senior high school general course student at Osaka-minami Visual Support School. When he was a third-year junior high school student, Mr. Sakai performed as a drummer at the closing ceremony of the Tokyo Paralympics. People with all sorts of disabilities gathered at this closing ceremony. At first he was at a loss as to how to interact with people whose disabilities were different from his own.
However, when he saw that his fellow musicians and performers were interacting so naturally with one another without making any distinction between different types of disability, he realized that he had unconsciously built a wall in his mind that separated him from people with disabilities other than his own. It dawned on him that the world could be a very different and much better place if everyone made an effort to dismantle the walls of unconsciousness that were such formidable barriers between themselves and others.
Mr. Sakai concluded his speech by inviting the audience to join him in reflecting on these walls of unconsciousness. He urged each individual to discover whether they themselves had built such a wall that may be preventing them from interacting naturally, amicably and fruitfully with someone else.
Ms. Makiko Uchidate, a novelist, was a special judge this year. She praised each of the passionate speakers and her comments helped create a supportive and warmly inclusive atmosphere at the venue.
This year was the 20th anniversary of Sumitomo Group Public Affairs Committee's special support for the speech contest. The Sumitomo Group Public Affairs Committee's activities are inspired by the Group message, "Passing important values from people to people." We relish the opportunity to contribute to the success of this contest in bringing the words and example of these life-affirming inspirational individuals to the attention of the wide audience they so richly deserve.
Click to read the speech.