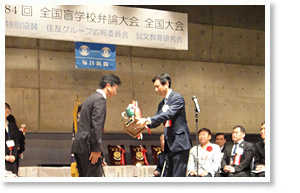 First prize winner, Takeshi Watanabe receives the award from
Kenji Shinmori, Executive Director of Sumitomo Group Public Affairs Committee.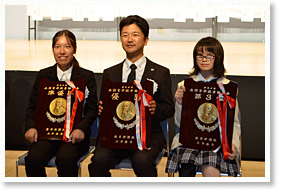 The 2015 winners, from left, Reika Wato, Takeshi Watanabe, and Kotono Matsuoko.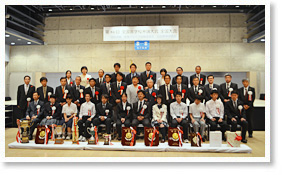 The 2015 contestants, teachers and judges gather to celebrate another great contest.
Sumitomo Group Public Affairs Committee recently supported The 84th Speech Contest of the Schools for the Blind (hosted by Mainichi Newspaper Co., Ltd. Tenji Mainichi) held on Oct. 2nd, 2015 at The Create Hamamatsu in Hamamatsu City, Shizuoka Prefecture.
This speech contest has continued following a tradition since its foundation in 1928 (the 3rd year of the Showa period) and now in its 84th year. This year, nine blind students representative ranging in age from 14 to 47 emerged from districts from all over Japan, after winning their respective elimination contests. They spoke with passion on the dreams for their future, purpose in life and their thoughts from their daily lives.
The impressive winner of this year's contest was the first year student Takeshi Watanabe, of the Fukushima Prefectural School for the Blind, the delegate from the Tohoku region. He used to be a teacher. In those days, as he slowly lost his sight, he had to fight with his frustration and sadness, which made him feel helpless. Then one day, his daughter told him to cheer him up, "You are my dad even though you are losing your sight, that doesn't change. I will see things as much as you need". Then he decided to go the school for the blind and started to take a new step in his life again. His voice carried this message very well and with his skill of speaking on his experience, he captivated the entire audience.
The Sumitomo Group Public Affairs Committee has supported this competition for the 13th time over the years with our group message, "Passing important values from people to people". We hope we can contribute to the development of "The Speech Contest of the Schools for the Blind" which is sending "The power of living" to our society through the powerful words of these inspirational people.