Achieve economic and spiritual prosperity,
realizing the dreams of people wolrdwide
by leveraging Sumitomo's business philosophy in pursuit
of sustainable growth hand in hand with society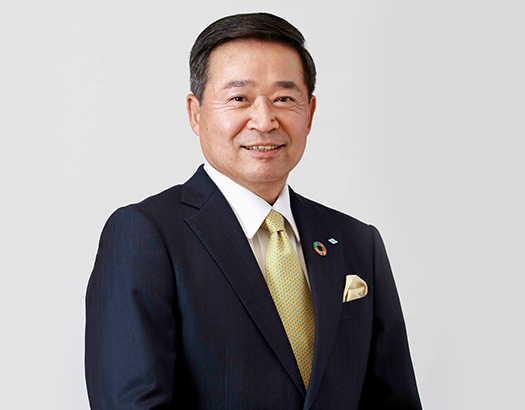 Representative Director
President and Chief Executive Officer
Sumitomo Corporation
Q1.
The Expo is a great opportunity. What does it mean for society?
I believe that the Expo to be held in Osaka, the historic source of Sumitomo Group's business, will stimulate change and innovation as we progress toward the goal of a sustainable society. Sumitomo Corporation would like to make this an opportunity to achieve economic and spiritual prosperity connected to the dreams of people worldwide who seek a truly sustainable future society. To achieve this happen based on Sumitomo's business philosophy of Jiri-rita Koushi-ichinyo, meaning "Benefit self and benefit others, private and public interests are one and the same," all our employees are applying their minds to social issues concerning the environment and human rights, seeking to create new value linked to worthwhile change.
Q2.
How does your company's business fit the Expo theme of "Designing Future Society for Our Lives"?
Sumitomo Corporation has identified six key social issues, including mitigation of climate change, and is tackling them with ingenuity and tenacity. For realization of a carbon-neutral society, we have established the Energy Innovation Initiative and are creating a next-generation energy business. We are also promoting resource-saving businesses, such as those linked to the sharing economy, and businesses that contribute to development of regional communities and economies, including social infrastructure, and agriculture-related businesses. By contributing to a prosperous future for people around the world, we are determined to fulfill our corporate message, "Enriching lives and the world."
Q3.
What are you looking forward to and what do you see as the benefits of the Expo?
I vividly recall the 1970 Osaka Expo, a thrilling event overflowing with hopes and dreams for a future society. The coming Expo should offer the up-and-coming generation of children and young people a vivid creative experience so that the Expo theme, "Designing Future Society for Our Lives," flourishes as a beacon of hope for the future. The Sumitomo Pavilion, embodying the life-affirming values of the Sumitomo Group, is at the heart of this ambitious endeavor.