Reducing emissions of greenhouse gases is considered the most effective means of alleviating climate change on a global scale. In particular, a broad spectrum of measures ranging from reduction to recovery and recycling are being taken to counter the effects of carbon dioxide (CO2).
In these circumstances, biomass power generation—a method of generating electricity by using biomass, such as food waste and forest thinnings, as fuel—is attracting attention for its utility and sustainability. Biomass power generation is acclaimed for two reasons. It is carbon neutral, meaning that although of course CO2 is emitted at the time of fuel combustion, the emissions are offset by the amount of CO2 absorbed during the growth process of the organic matter used as fuel. And, it is unaffected by weather conditions, in contrast to wind power and solar power generation. For this reason, an increasing number of companies in Japan are installing biomass power plants. Sumitomo Osaka Cement has been in the vanguard of biomass power generation in its industry since 2004.
A distinctive characteristic of biomass power generation at Sumitomo Osaka Cement is that the company has introduced the most suitable power generation method for each plant, taking into account plant location and regional characteristics.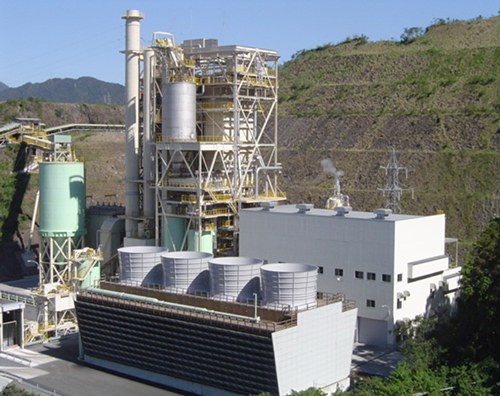 For instance, the company's Kochi plant uses fluidized bed boilers, which are capable of burning a wide variety of fuels, for power generation and uses both building scrap wood and forest thinnings as fuel for the burners. Kochi Prefecture has a forest area ratio of approximately 84%, the highest in Japan, and the Kochi Plant has developed a system for obtaining a stable supply of biomass fuel in cooperation with local forest owners. Forest thinnings from the Shikoku region have long been used as a raw material in papermaking. However, the volume of paper production has been declining nationally since around 2000, leading to lower demand for thinnings. The use of excess thinnings as biomass fuel contributes to the effective utilization of forest resources and helps sustain the forestry industry.
Since the Ako Plant in Hyogo Prefecture uses pulverized coal-fired boilers as power generation facilities, its biomass ratio is only 2%. However, an important characteristic of the plant's power generation method is that three-fourths of the biomass used is solid fuel produced using sewage sludge as a raw material. This fuel includes carbonized fuel produced in Osaka City's Hirano Sewage Treatment Plant Sludge and Solid Fuel Project. Sewage sludge is currently attracting attention as a carbon-neutral biomass resource, and the stable use of a newly developed fuel is a measure aligned with the principles of the SDGs.
A characteristic of the Tochigi Plant is that it operates with a high biomass ratio of 93%. The plant, which had a biomass ratio of 65% to 70% when it introduced biomass power generation in 2009, has achieved the highest biomass ratio in the company by improving facilities and operations. Also, Hachinohe Biomass Power Generation Co., Ltd., a joint venture that Sumitomo Osaka Cement established together with Sumitomo Forestry and other company, operates facilities that generate electricity for sale using mainly forest thinnings as fuel. Although the company currently relies on imported palm kernel shells (PKS) for a portion of its fuel, it is investigating the possibility of shifting entirely to materials sourced in Japan in the future.
At a time when ways of reducing CO2 are being studied nationwide, how can a single business operator contribute to CO2 reduction? Sumitomo Osaka Cement intends to continue using biomass power generation as its own unique SDG project while pursuing research and closely watching global trends.