Project harnessing Sumitomo Group technologies
Higurashi Villa was built in 1905, coinciding with the relocation of Sumitomo's copper smelter from Niihama to Shisakajima, an island some 20 km offshore from Niihama City, Ehime Prefecture. Metaphorically speaking, this villa of the Sumitomo family kept an eye on the smelting operation for more than 110 years. In autumn 2018 Higurashi Villa, relocated to Niihama City, opened as a museum. In addition to the reerected rooms recreating the atmosphere of Higurashi Villa in its heyday, the museum also showcases various documents and memorabilia presenting the historical context. Hirohiko Matsushita of Sumitomo Metal Mining explains, "Sumitomo Metal Mining inherited the villa after the war and sought to keep it in good repair, but the years took their toll and the building deteriorated."
He continues, "As well as being of architectural distinction, Higurashi Villa symbolizes Sumitomo's business philosophy. So the Sumitomo Group decided to relocate it to Niihama City, giving it a new lease of life as a museum open to the general public."
Copper had long been at the heart of Sumitomo's business and in the late 19th century Sumitomo established a major copper smelting operation in Niihama, employing the latest Western technology. Unfortunately, emissions of sulfur dioxide gas were an unwelcome side effect of the modernization drive, causing smoke pollution. To solve this problem, Sumitomo embarked on an 8-year project to construct a smelter on Shisakajima, an inhabited island, but contrary to expectations the new smelter resulted in the smoke pollution affecting a wider area. Eventually, while also paying compensation to local residents who were victims of the smoke pollution, Sumitomo managed to eliminate the root cause of the smoke damage in 1939 through technological innovation.
Higurashi Villa was the witness to the 35-year struggle to deal once and for all with the smoke pollution. "Convinced of the beneficent power of technology, our predecessors were committed to achieving a definitive solution to the problem, rather than settling the matter with monetary compensation. This approach was the practical expression of Sumitomo's business philosophy. The relocation of Higurashi Villa, a cultural artifact symbolizing that philosophy, was a project that struck a chord with the entire Sumitomo Group," says Matsushita. The project began in 2016 and took two and a half years to complete. Appropriately, the villa was relocated to a hillside affording a fine view of Shisakajima. "While ensuring compliance with the Building Standards Act, the original design of the villa, which was the epitome of contemporary style in its day, was reproduced in all its beauty and detail," says Tsutomu Kuramoto, Manager of the museum. Sumitomo Group companies' technologies were harnessed for the project.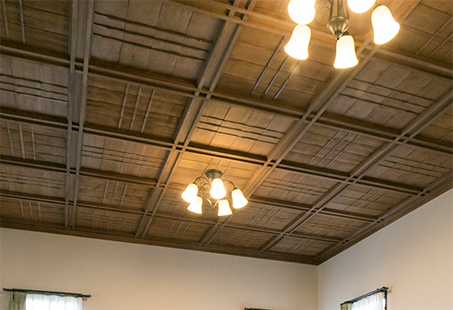 He explains: "For the interior, the approach adopted by Sumitomo Forestry involved dismantling the villa into its constituent elements one by one, thus elucidating the structural integrity of the building prior to its meticulous reassembly. Of 10,000 interior components, 95% were reused. We assigned a unique number to each component, recording its location so that the villa could be faithfully reconstructed. Whereas the building's original foundations were composed of slag blocks*, we had to adopt a modern concrete structure. Sumitomo Mitsui Construction sliced the slag blocks using a special cutter and affixed them one by one onto a concrete wall.
Tempered glass manufactured by Nippon Sheet Glass used for the windows matches the villa's delightfully retro atmosphere while enhancing the safety of the museum located at an altitude of about 40m. Inside the wall are a concrete earthquake-resistant wall and Sumitomo Forestry's proprietary seismic energy absorbing panels incorporating Sumitomo Rubber Industries' high-rigidity, high-damping rubber. These most advanced technologies help ensure the safety of visitors to the museum.
*Slag blocks:
 Blocks made of slag, a by-product of the ore smelting process for copper and silver.
 Molten slag is poured into molds to make blocks.
Reprinted from SUMITOMO QUARTERLY NO.155