Sumitomo Group Public Affairs Committee would like to contribute to global human resource development through the Intercollegiate Negotiation Competition supporting the negotiation skill upgrading education.
The 4th Intercollegiate Negotiation Competition was held in Sophia University on December 3rd-4th, 2005. In addition to 12 schools of University of Tokyo, Kyoto University, Nagoya University,
Osaka University, Kyushu University, Chuo University, Doshisha University, Sophia University, Waseda University, Keio University, Hitotsubashi University and Hokkaido University, which had participated before, Tohoku University and Australian National University participated for the first time. Including 6 participants from Australian National University for the performance in Japanese, totally 205 undergraduate and graduate students performed enthusiastically.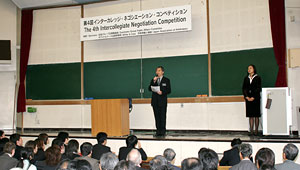 Opening ceremony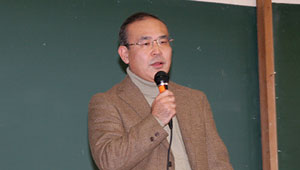 Mitsuru Iba, Secretary General, Sumitomo Group Public Affairs Committee
General Manager, Corporate Communications Dept., Sumitomo Corporation