The outline of the pavilion concept was unveiled at the presentations of private pavilion exhibitors held on May 30.
The Sumitomo Pavilion will present everyone, but especially youngsters destined to be the creators of the future, an immersive experience outshining those available elsewhere in a one-of-the-kind forest, leveraging real and digital technology and solution. Emulating the immensity of space, stimulating all five senses, and encouraging compassion, the experience at the pavilion will shine brightly in their mind's-eye undimmed by the passage of the years—bringing smiles to their faces and reorienting them toward worthwhile goals while kindling a generosity of spirit.
Venture into a mysterious uncharted forest, explore wherever your inclination leads you, making great discoveries along the way. On emerging from the forest after a series of revelatory experiences, your newly expanded imagination will have the power to envision a better future. That is the exhibition we have in mind. As befits the Expo, the pavilion will incorporate the most enlightened production values of the contemporary world, including extensive innovative use of timber sourced from forests owned by the Sumitomo Group in Japan.
The presentation by Chairman Nakamura was followed by a Q&A session with Ms. Naoko Yamazaki, senior advisor to the Japan Association for the 2025 World Exposition.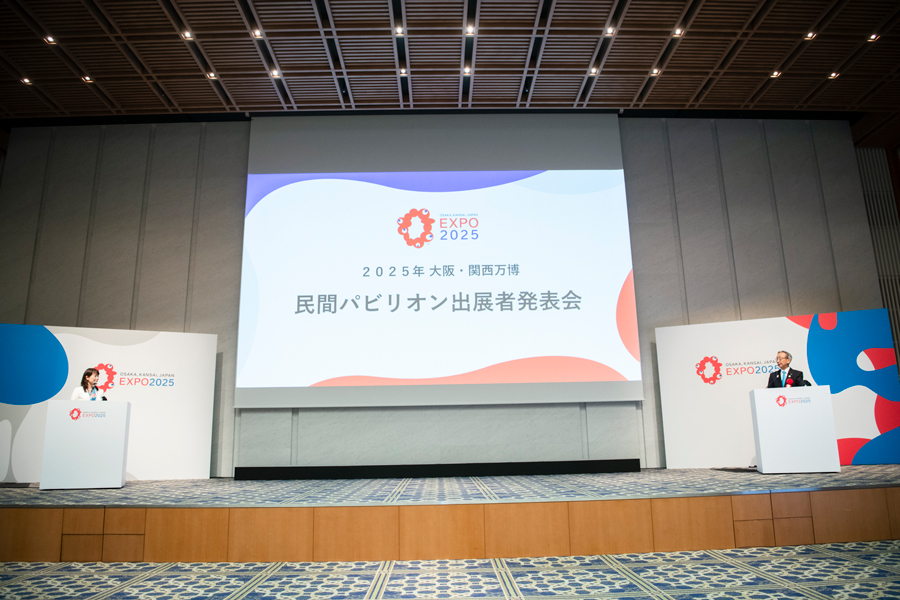 Ms. Yamazaki:
What will be uniquely Sumitomo at the Sumitomo Pavilion?
Chairman Nakamura:
In its 400-year history, Sumitomo has engaged in various businesses based on the business philosophy of Jiri-rita Koushi-ichinyo, meaning "Benefit for self and benefit others, private and public interests are one and the same." When the mountains of Besshi were denuded by decades of logging and ravaged by smoke pollution, Sumitomo put people and nature first, not profit, and restored the rich natural environment over the next 100 years, planting over two million trees a year at the peak of the reforestation campaign. The Sumitomo Group's business philosophy also underlies our hosting of a pavilion. In view of the issues confronting contemporary society, such as climate change, environmental degradation, disparity of wealth, and violations of human rights, while reaffirming our traditions, we hope to show as many people as possible what we have in mind and what we can do for people, society, planet Earth, and even in space. It is also important to engage and encourage the interest of youngsters, the up-and-coming next generation on whose energy and intelligence the future depends, so that their commitment to tackling social and environmental issues grows in strength. We want the Sumitomo Pavilion to convey our aspirations to the next generation.
Hosting a pavilion at Expo 2025, the EXPO2025 Promotion Committee will integrate the knowledge, technology, and talent cultivated in the course of Sumitomo's 400-year history to illuminate a path to a bright future for everyone.