In manufacturing industry, achieving zero CO2 emissions in production processes is a critical theme. Many manufacturers share a sense of urgency, believing that if they do not position decarbonization at the heart of their business, it will be a major risk for their future.
The core business of Sumitomo Rubber Industries is manufacturing tires for motor vehicles. The company formulated a long-term sustainability policy in 2021. By promoting initiatives to enhance both the Sumitomo Rubber Group's economic value and the Group's value to society as well as ESG management, Sumitomo Rubber Industries aims to achieve carbon neutrality (Scope 1 and 2) by 2050 and various other targets.
The company is working to reduce CO2 emissions through energy saving, cogeneration (combined heat and power generation), and the use of solar power generation, but these efforts alone will not reduce CO2 emissions to zero. Tire production processes emit CO2 when generating steam, which is necessary as a heat source. Since this steam is at a high temperature of over 100°C and at high pressure, it is technically difficult to generate steam using electricity. One option would be to develop a technology that does not use steam, but even if such a technology were developed, it would require new facilities, which would be costly, and existing production equipment would no longer be usable. Therefore, natural gas, a fossil fuel, is currently used, but the company felt that it would be difficult to achieve carbon neutrality by 2050 if the current situation continued.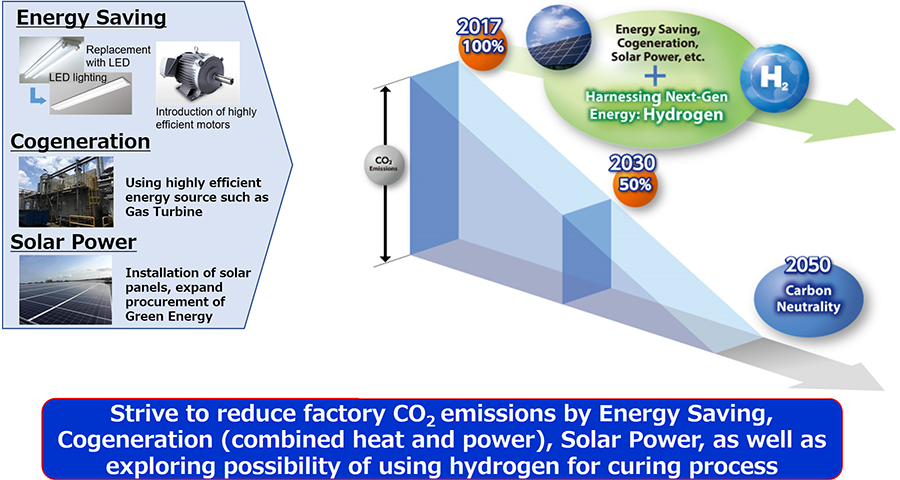 Sumitomo Rubber Industries has focused on using hydrogen instead of natural gas as an energy source for steam generation. The advantages of hydrogen are not only that it can generate steam without emitting CO2 during combustion but also that the technology has been established to a certain degree and existing equipment can continue to be used. In addition, the company can utilize the expertise it has accumulated in tire manufacturing. Having decided that generating steam with hydrogen is the most realistic and effective approach at present, the company embarked on a proof of concept.
The main tire manufacturing plant of Sumitomo Rubber Industries is in Shirakawa City, Fukushima Prefecture. Opened in 1974, the Shirakawa Factory is one of the largest tire plants in Japan. This factory also serves as a base for R&D. A large site area means that it can easily accommodate future facility expansion. In August 2021, with the support of the New Energy and Industrial Technology Development Organization (NEDO), the company began a proof of concept at the Shirakawa Factory for use of hydrogen with the ultimate goal of achieving carbon neutrality of tire manufacturing.
Tire manufacturing involves six processes: mixing rubber and chemicals, manufacturing tire components, assembling the components, vulcanizing to unify several types of rubber to make a tire by heating and pressurizing to cause chemical reactions, inspection, and shipping. Since, as a heat source, the vulcanization process uses high-pressure, high-temperature steam, which is difficult to generate using electricity, it is the biggest hurdle to carbon neutrality in the tire and rubber industry.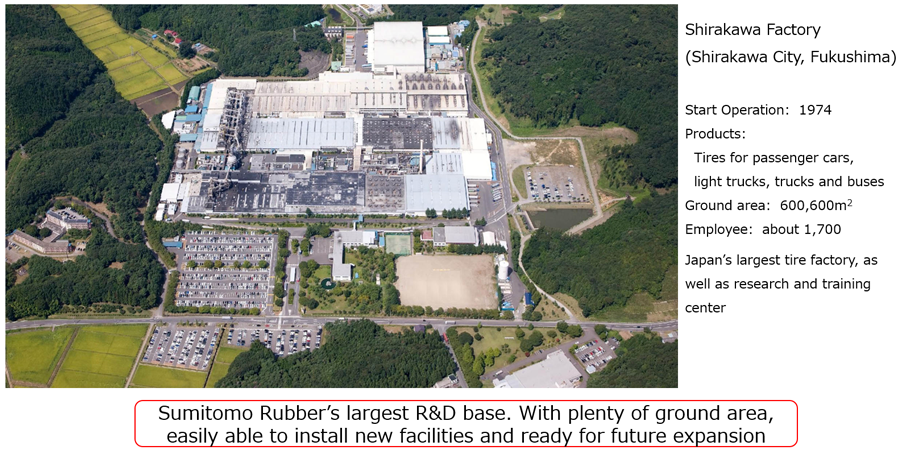 The purpose of the proof of concept is to confirm stable and efficient operation of the hydrogen boiler during the vulcanization process and evaluate the effectiveness of fuel conversion to hydrogen, as well as to establish a model for local production for local consumption of hydrogen by using hydrogen produced in Fukushima, where the plant is located. Fukushima Prefecture is a pacesetter in terms of utilization of renewable energy and home to cutting-edge research on hydrogen. In this proof of concept, hydrogen produced in Koriyama City, which is near the Shirakawa Factory, will be mainly used, with hydrogen produced in Iwaki City as a backup. Both cities are in Fukushima Prefecture.
Use of locally produced hydrogen results in reduction of CO2 emissions during transportation. In addition, the company also aims to contribute to local production for local consumption by participating as a consumer in the Fukushima Plan for a New Energy Society promoted by the Ministry of Economy, Trade and Industry, the Agency for Natural Resources and Energy, and the government of Fukushima Prefecture.
In April 2022, construction of a hydrogen gas receiving facility and a hydrogen boiler began on the premises of the Shirakawa Factory, with plans calling for operations to begin in January 2023. In addition, a solar power generation facility will be installed separately from the proof of concept. Sumitomo Rubber Industries aims to develop tires whose manufacture involves zero CO2 emissions, including through the use of electricity from the photovoltaic power generation facility.