A cement plant can be an asset for communities, particularly when a natural disaster occurs
As a matter of policy, Sumitomo Osaka Cement started proactively accepting disaster waste in 2011 when the Great East Japan Earthquake struck. In principle, similar to general waste, disaster waste should be treated within the municipality where the waste is generated, such as by incineration at local waste incineration plants. Treatment of waste that cannot be treated within the municipality is outsourced. But the massive quantities of waste generated by the Great East Japan Earthquake dwarfed the waste treatment capacity of local governments in the stricken areas. Responding to the crisis, Sumitomo Osaka Cement accepted about 100,000 tons of disaster waste, consisting of rubble and other debris.
In subsequent years, the company established a track record of accepting disaster waste, including 8,000 tons of stockpiled rice and tatami mats ruined when the Kinugawa River overflowed its banks in 2015 at Joso City, Ibaraki Prefecture, as a consequence of torrential rain in the Kanto and Tohoku regions; 18,000 tons of wood scraps generated by the earthquakes in Kumamoto Pre-fecture in 2016 from the prefectural government and Kumamoto City; 1,000 tons of wood scraps in the wake of Typhoon Lionrock in 2016 from Kuji City, Iwate Prefecture; 40,000 tons of wood scraps and other debris generated by heavy rains in western Japan in 2018; and 28,000 tons of assorted debris—wood scraps, tatami mats, rice straw, etc.—in the aftermath of Typhoon Hagibis in 2019. The plants of Sumitomo Osaka Cement consumed all this disaster waste.
Sumitomo Osaka Cement's acceptance of disaster waste is a contribution to society. By maximizing the positive impacts of its cement plants on neighboring communities, it is the company's earnest desire that local residents will appreciate and cherish the plants, viewing them as beneficial to their communities. The group has five cement plants (Hachinohe, Tochigi, Gifu, Ako, and Kochi) across Japan. In principle, the plants close to disasteraffected areas proactively accept disaster waste.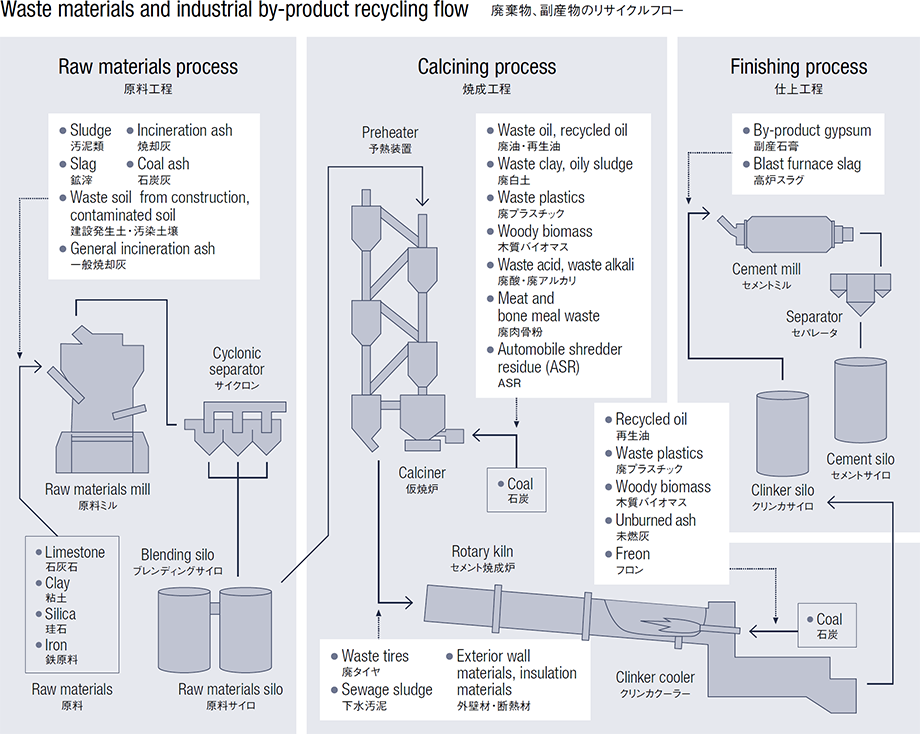 To handle disaster waste, plants have to restrict acceptance of other types of waste so as to secure treatment capacity. Waste must also be sorted and when, as is sometimes the case, this has to be done manually, the waste treatment cost may become relatively high.