Sumitomo Densetsu creates infrastructure in Japan and overseas in wide-ranging fields, including design and installation of electrical and air-conditioning facilities for various types of buildings, instrumentation equipment at plants, ITC systems, environmental facilities, and power supply equipment as well as renewal of existing buildings. As a comprehensive engineering company, Sumitomo Densetsu contributes to society through its business focused on social infrastructure.
The Growth Support Service launched in April 2023 is designed to help small and medium-sized enterprises (SMEs) tackle the issues they face. Focusing on production-related data at manufacturers' plants, this service not only visualizes previously unexploited data but is also a source of expert advice, as consultants with expertise in SME management periodically advise clients on how to use their data to maximum effect. Essentially, with this service, clients get an IoT-based data visualization system combined with expert advice.
Having established the New Business Promotion Office under the Information and Communications Systems Division in March 2020, Sumitomo Densetsu was considering new services to help manufacturers deal with pressing issues. The company concluded that Japanese manufacturing SMEs typically face challenges on three fronts.
Firstly, in their manufacturing operations, rich data streams are uncaptured and unexploited. Consequently, the actual situations of factories are not grasped quantitatively and data are not utilized to fuel growth. Secondly, they lack human resources, in particular, the human resources needed to drive digital transformation (DX). SMEs often find it difficult to attract and foster human resources. Although the need for IT is recognized, SMEs tend to be short of personnel adept at IT. Thirdly, there are issues concerning strategic planning. Strategic investment in IT and IoT is largely neglected. Moreover, SMEs are often unsure where to start.
In Japan, over 99% of manufacturers are SMEs. In the face of rising prices of raw materials, labor shortages, and competition with overseas manufacturers, they need to improve efficiency and enhance productivity. For this purpose, DX promotion is indispensable. However, companies, not least SMEs, lack IT expertise and often are unable to make the right management decisions on how to proceed with reforms even though they are aware of the issues.
So, Sumitomo Densetsu, jointly with WingArc1st and Techno Management Web Solutions, developed the Growth Support Service, a corporate growth support solution for manufacturing SMEs. Sumitomo Densetsu, as the point of contact for clients, provides the overall service and supports the clients, helping them digitize the records of their production activities. WingArc1st developed and provides MotionBoard, a BI dashboard for data visualization. Techno Management Web Solutions, a consulting firm specializing in the manufacturing sector, provides remote support to facilitate and inculcate DX.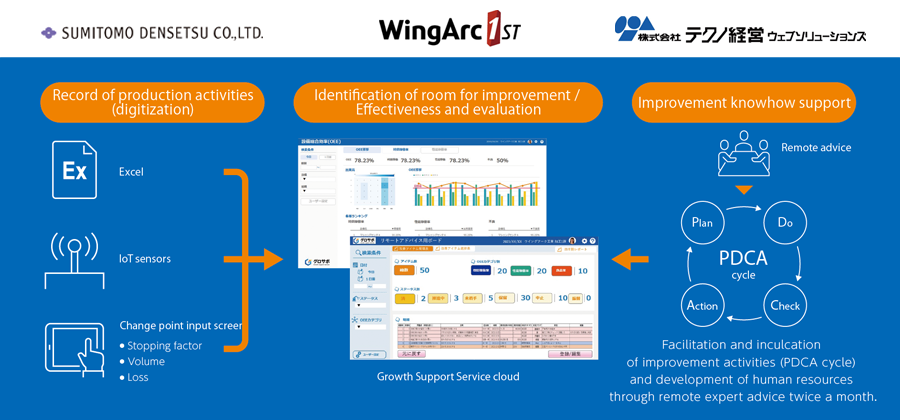 The Growth Support Service digitizes production activities of factories through IoT, visualizes factory conditions by capturing data, and supports data utilization to deliver improvements. Management can not only grasp the actual factory conditions but also improve profitability by uncovering bottlenecks. At online meetings held twice a month, clients are advised on how to continuously improve production based on the data.
No modification of factory facilities is required in order to capture the data. Since sensors are retrofitted, the manufacturing process is not interrupted and product quality is unaffected. As the captured data are accumulated in the cloud, a system can be quickly constructed and the client burden for maintaining the system is minimal.
The dashboard of the Growth Support Service shows data that give clues for improvements. Once the sensors are installed, the factory conditions can be grasped at a glance. Consultants with expertise on how best to improve manufacturing operations advise clients on the optimal approaches to resolve their issues, citing examples of best practice for their reference.
As labor shortages become more acute, many SMEs are struggling with recruitment and development of human resources. Growth Support Service clients can benefit from improvement knowhow and raise their performance early while accumulating successful experiences on the factory floor. This increases the motivation of personnel in charge of improvement, leading to the cultivation of an improvement-oriented workplace culture.
As stated in its corporate philosophy, Sumitomo Densetsu Group "aims to develop a favorable environment to support a prosperous and secure society." The Group is eager to contribute to building a sustainable society by resolving the issues of manufacturing SMEs while enhancing the medium-term corporate value of the Group.

Sumitomo Densetsu

The Sumitomo Densetsu Group is a comprehensive engineering enterprise that undertakes wide-ranging facilities construction projects, including construction of electrical facilities, information and communications systems, and electric power, air conditioning, and plant facilities. It also has extensive construction experience in the environmental sector, including solar power generation systems and building management systems, and in IT-related fields such as network construction. By applying advanced technological capabilities corresponding to the needs of the era, the group will continue pursuing greater functionality and convenience while helping sustain an environment which is friendly to people and the Earth.